After all the speculation, all the rumors, and all the misguided press, Apple gets down and specific with everything their new fancy iOS does. We know that Apple tends to speak in a language none of us real people do. Everything is so revolutionary, magical, and perfect… Here's a realistic breakdown of what iOS 7 will do and what that means for your day to day life. 
Control Center – This feature gives you quick access to the controls and apps that you always seem to need right this second. Just swipe up from any screen – even in the lock screen. This includes switching to airplane mode, turn Wi-Fi on or off, and adjusting brightness. You can even use the flash on your phone for a flashlight (no more downloading some "flashlight" app.
Notification Center – This was more a revamp, but still quite important. So from email, missed calls, to-dos that need doing, and more, Notification center is your go to place. A new feature called "Today" gives you a quick summary of what's happening that day. That means birthdays, whether you need a sweater, umbrella, or if traffic is going to suck (it most likely will). Once again, it will be accessible from every screen.

Multitasking – We already have multitasking, but this a whole new concept being brought to the table. It's all getting very smart. iOS 7 learns when you like to use your apps and can update your content before you launch them. So if you tend to check twitter at 10:00 a.m. every day, your feed of cat gifs will be available. And quitting apps is just a lot more fun now. Just shoot them up whenever you don't want it running anymore.
 
Camera – We all think cameras are all about hardware, but iOS 7 is being implemented to help you take better photos. It puts all your shooting formats – still, video, panorama, and now square (Instagram) – front and center. With a swipe you can see the picture the way you want it! Editing with the iPhone is incredibly easy too. No need to jump through different apps to make it square, color it, or get all artistic. Just stick to that one app.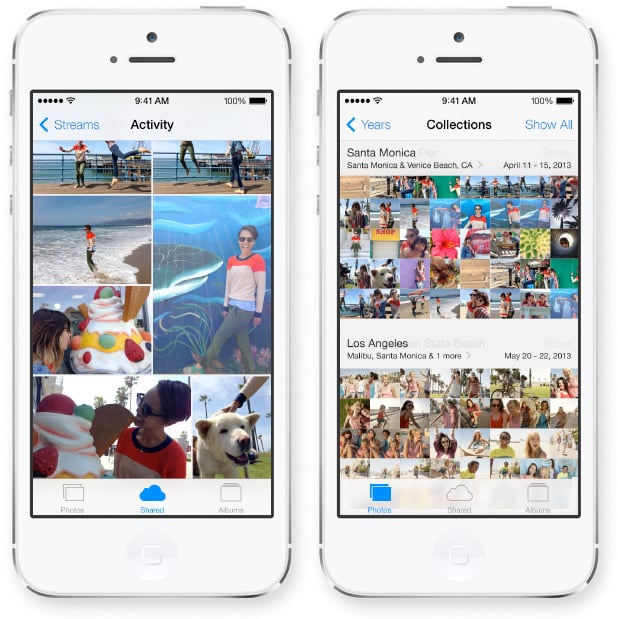 Photos – Now there are faster + easier ways to scroll through all your pictures. We all know you have a couple thousand in there. Your iPhone will now make smart groupings of all your pictures/videos. Essentially what you will be able to do is pick a year, month, or week and it will show all your shots within that time. You can even make something called "collections" which is basically an album but a little more specific.
 
AirDrop – Okay this is legitimately a game changer. Sending a photo or a document to someone in a text or email is a hassle at times, especially if that someone is right next to you it seems a bit… unneeded. AirDrop is now on the iPhone, which means you can essentially send things over to your friends in the same room with out using anything but Wi-Fi & Bluetooth. No setup required. Transfers are all encrypted, so what you share is highly secure.

 
iCloud Keychain – What seemed like an afterthought, finally has picked up some traction. Lots of things on the Internet need a password. iCloud finally remembers account names, passwords, and credit card numbers for you. Don't worry its an option. If you are too scared to use that feature, you wont have to. The best part is, if you have OS X Mavericks on your mac, it will now sync all passwords on your iCloud meaning computers and phones work together for passwords.

 
Siri – Siri looks completely different, sounds different, and has a whole bunch of new capabilities. With a great depth of field look, it can basically lay right on top of everything that is on your screen. Siri can now be a female OR male! She's way easier to understand now, and is faster and answering questions. She checks more sources like Bing, Wikipedia and Twitter. Siri can also complete new tasks such as returning calls, playing voicemail, and controlling iTunes.

 
App Store – Apps near me is one of the coolest things to ever come to iPhone apps. First of all, apps by itself are just fantastic, but this should be a great addition. It can show you a collection of popular apps that are relevant to where you are. They are even introducing a new "Kids" category, which will allow kids to browse and buy best apps for children based on age. iOS 7 also keeps your apps updated by itself. No more annoying "49" red number on your app store icon.

 
Find My iPhone, iPad, or iPod Touch – Apple understood that sometimes find my iPhone app didn't really work because criminals were taking shortcuts, so that resulted in Apple taking a few extra steps in making sure that there was less of an incentive for criminals to steal iPhones. If the iPhone is inactive and unable to shut off (which keeps it under data or Wi-Fi), then less criminals will steal it. That also means that the criminals cannot reset the phone. It will always have your info on it. This sounds bad, but it actually isn't. It means that even if he or she sells the phone, that user can never do anything with the phone. The phone essentially becomes useless to anyone other than the original owner.
 
 
 
Apple has quite a bit going on over there at their headquarters. Technology changes quite a bit, but theres always ways to keep up, and we can always help you out!
This article was written by Ronak Kallianpur. Ronak is a writer for Trigger Marketing Group. Follow him on Twitter, Instagram, and check out his music on Soundcloud. Follow his personal blog here.